Netsertive's Season Of Giving: Franchisee Recognition Awards Honor Franchisees Across the Nation For Their Success and Generosity in Their Local Communities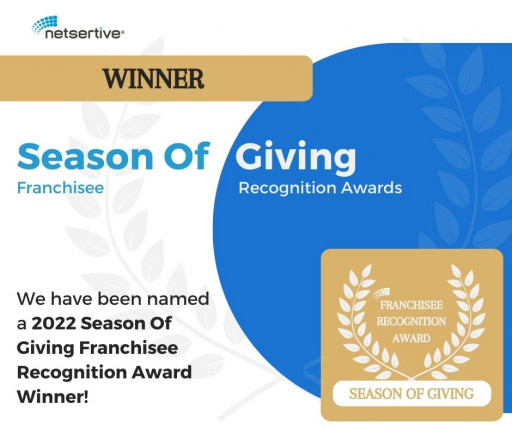 Netsertive Season of Giving: Franchisee Recognition Awards
Kathy J. Evert Named a Netsertive Season Of Giving: Franchisee Recognition Award Winner
ANKENY, Iowa - January 12, 2023 - (
Newswire.com
)
Netsertive, a marketing technology provider that enables franchise brands and multi-location businesses to execute localized digital marketing at scale, announced their annual Season Of Giving: Franchisee Recognition Awards, honoring franchisees across the nation for their success and generosity within their franchise brands and local communities. Franchisees were nominated by their franchisors and peers and judged based on their size, growth, and local philanthropic involvement.
Netsertive is known for its commitment to furthering the franchise industry through education, technology, and relationships. They're honored to recognize Kathy Evert, Owner of Signarama in Ankeny, Iowa, as the first annual Season Of Giving: Franchisee Recognition Award winner. 
Award winners received top marks for being instrumental in helping their franchise brands, fellow franchisees, and local charitable organizations grow throughout the year. "These franchisees have shown leadership in the face of various challenges throughout the year as both small business owners and part of global brands. Their ability to prosper while also giving back a piece of their success to their communities is a true demonstration of what the franchise community is all about," states Brendan Morrissey, CEO of Netsertive. 
"Kathy has been a Signarama franchisee since 2016. From day one, her vision has been to use her business as a way to give back to her community," says Taylor McCarley, Marketing Specialist at Signarama's Home Office. "For the past four years, Kathy has used her "Signs of Support" program to assist charitable organizations to replace or create effective, affordable signage and graphics to support their mission. In addition to giving back to her local community, Kathy serves on Signarama's National Marketing Fund board. This year, she, along with the rest of the board, launched Signarama's first national contest, designed to give away a total of $18,000 worth of signage to eligible entrepreneurs across the nation. She is also active in Signarama's peer group program. Kathy has been a champion for the brand since joining Signarama in 2016 and continues to use her platform to help grow local charities, non-profits, and small businesses."
As part of their winning selection, each franchisee will receive $500 to donate to a local charity of their choice and a local press package.
To learn more about how Netsertive's digital marketing solution can help your multi-location business acquire more local customers online, please visit www.netsertive.com. 
About Netsertive
Netsertive delivers multi-location marketing technology solutions that enable franchise brands and multi-location businesses to execute localized marketing at the intersection of our proprietary technology and deep hyper-local expertise. Our Multi-Location Experience Platform creates, deploys and provides the data to efficiently manage profitable, localized marketing at scale while you focus on delivering value to your customers.
Over 1,500 retailers, franchises, auto dealers, and media companies trust our unique solution that couples our technology and team to execute localized content, advertising & insights at scale. Learn how Netsertive can enable you to deliver highly effective, localized marketing experiences at www.netsertive.com.
About Signarama Ankeny
Signarama® Ankeny, located in Ankeny, Iowa, a full-service sign center, proudly creates and designs custom signs ranging from unique vehicle wraps and graphics to interior and exterior company branding, sign service and repair. Specializing in custom signage for businesses using the latest technology and highest quality products, Signarama Ankeny is independently owned and operated. Sign*A*Rama Inc. is the world's largest sign franchise brand, in operation for over three decades and part of the United Franchise Group's family of award-winning affiliated brands, the global leader for entrepreneurs. To learn how Signarama can help grow your business, visit Signarama.com/locations/ia-ankeny. To learn more about Signarama*A*Rama Inc., please visit Signarama.com. 
Contact Information:
Erin Martin
VP of Marketing
emartin@netsertive.com
206-436-2719
Press Release Service by
Newswire.com
Original Source:
Kathy J. Evert Named a Netsertive Season of Giving: Franchisee Recognition Award Winner