Changed launches Auto Loan, Personal Loan Payoff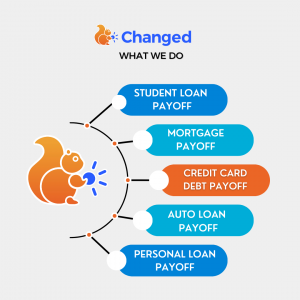 Image explaining what payoff services Changed offers
Changed empowers debt-ridden Americans with automated credit card payoff, saving thousands in interest.
Adding the credit card debt payoff option has our members excited. It's about helping them take charge of their finances"
— Nick Sky
CHICAGO, ILLINOIS, USA, August 23, 2023/EINPresswire.com/ — In the face of a staggering milestone, with credit card debt surpassing a daunting $1 trillion and Americans shouldering an unprecedented burden of debt, Changed, the fintech company known for their accelerated and automated debt repayment solutions, proudly unveils an expansion of its services, centered around credit card debt payoff.
Since its beginning, Changed has been committed to equipping its members with effective tools and strategies to overcome various debt challenges. With a strong focus on transparency and clear steps toward financial freedom, Changed is proud to introduce its new credit card debt payoff feature. This underlines Changed's dedication to transforming personal finance for the better.
Changed's latest feature incorporates an automated credit card debt paydown solution for all debt holders, offering a platform that simplifies managing credit card debt and a range of financial commitments – from student loans to mortgages, auto loans, personal loans, and credit score tracking. With the click of a button, the user-friendly and engaging interface empowers members with a tool to automate accelerated credit card payoff. The outcome is a faster and more impactful reduction in debt, that has helped their members save thousands of dollars in interest and save years off of their debt.
"We've always understood the struggle with debt firsthand," said Nick Sky, CEO and co-founder, alongside Dan Stelmach. "That's what led us to start Changed – to provide solutions that tackle these problems head-on and give control back to people. Adding the credit card debt payoff option has our members excited. It's about helping them take charge of their finances, with easy tools and automation that fit their own journey to becoming debt-free. Because no journey is the same – some might choose to snowball their debt, while others might opt to avalanche their debt. Changed makes these strategies more effective and easier to implement, all with a simple click of a button in one easy-to-use platform."
Recognized as a top player in fintech for debt solutions, Changed has consistently helped people repay debts up to 31% faster than going it alone, potentially saving them thousands in interest. With these new features, Changed aims to make financial freedom more easily achievable, understanding that people are busy. The set-it-and-forget-it approach simplifies the process, allowing individuals to focus on their lives while their debts are managed smartly.
For more information, visit https://www.gochanged.com/.
About Changed
Changed, a fintech company backed by prominent figures like Mark Cuban and featured on Shark Tank, stands at the forefront of expediting debt repayment for individuals. Leveraging a blend of personalized guidance and budget-conscious savings, Changed streamlines actionable steps towards debt freedom. To date, Changed has assisted its members in eliminating over $60 million of debt. With the introduction of these features, Changed remains unwavering in its mission to empower individuals on their journey to financial freedom.
Khadiza Ali – Media Relations
Changed
email us here
Visit us on social media:
Facebook
Twitter
LinkedIn
Instagram
YouTube
TikTok


Article originally published on www.einpresswire.com as Changed App Revolutionizes Credit Card Debt Payoff Amidst Soaring National Debt