Lifestyle
The premium space makes room for the next chapter in the Southern California aviation company's growth
SAN BERNARDINO, Calif., September 21, 2023 (Newswire.com) - Executive Jet Maintenance, a premier name in aircraft maintenance and services, is thrilled to announce a significant expansion that underscores its commitment to excellence and growth in the aviation industry. The company has added a state-of-the-art 32,000-square-foot hangar at the San Bernardino Airport, solidifying its presence as a leader in aircraft maintenance and service solutions in Southern California and beyond.
This expansion marks a major milestone for Executive Jet Maintenance as it continues to rise to accommodate the evolving needs of its discerning clients and the greater aviation community. The new hangar facility boasts cutting-edge infrastructure, advanced security features, and a spacious environment that accommodates a wide range of aircraft sizes and types.
In addition to infrastructure, the firm is advancing its services offered. A key highlight of its expansion is the availability of monthly leasing for its premium aircraft hangar space. Aircraft owners, operators, and businesses in need of secure and convenient storage can now take advantage of this offering. The spacious hangar provides an ideal solution for those seeking a reliable location to house their valuable assets while benefiting from Executive Jet Maintenance's renowned service quality. Access to the EJM's world-class personnel for ongoing maintenance and repair is a significant value-add to the ongoing benefit of jet storage at the new facility.
"We are extremely excited about the opening of our new 32,000-sq.-ft. hangar at the San Bernardino Airport," said Kurt Belcher, CEO of Executive Jet Maintenance. "This expansion reinforces our enduring mission of offering elite services and facilities to our unique clientele. The ability to access secure and efficient storage and maintenance on a monthly basis is of great value to many clients, and it just underscores our recognition of the diverse needs of Southern California's aviation community."
For inquiries into the availability of aircraft hangar space for monthly lease, or to learn more about Executive Jet Maintenance's comprehensive range of services, interested parties are encouraged to reach out to Erik Neiderman at 949-756-1111.
About Executive Jet Maintenance:
Executive Jet Maintenance is a leading provider of aircraft maintenance, repair, and service solutions. With a strong commitment to quality, safety, and customer satisfaction, the company has garnered a reputation as a trusted partner in the aviation industry. With an established presence at the San Bernardino Airport, as well as connections throughout California and the nation, Executive Jet Maintenance fulfills its ongoing mission to deliver superior services to the aviation community.
Contact Information:
Erik Neiderman
Director of Operations
erik@stajets.com
949-756-1111
Original Source:
Executive Jet Maintenance Expands Operations, Adding 32,000-Sq.-Ft. Hangar at San Bernardino Airport
The Federal Trade Commission staff will be hosting a...
SAN DIEGO, September 22, 2023 (Newswire.com) - Hanna Interpreting Services, a premier language services provider, is proud to announce its recognition by Comparably as one of the best companies for work-life balance. This honor is a testament to the company's unwavering commitment to employee well-being and its innovative approach to fostering a harmonious work environment.
Comparably's accolade assesses factors such as employee satisfaction with work-life balance, average hours worked per day, lunch break lengths, and overall feelings of burnout. Hanna Interpreting Services' dedication to creating an environment that melds productivity with personal time has made it stand out in this evaluation.
A significant contributor to this balance is the company's hybrid working model, where employees merge the best of both worlds by working remotely for three weeks and in the office for one week every month. This flexibility allows team members to maintain their personal lives while still fostering in-person collaboration. Hanna also ranked among the top 35% of companies for diversity and in the top 40% for gender balance.
"It's a balance we've been striving to achieve, especially in these dynamic times," says President Tom Elias Hanna. "We understand the challenges presented by both remote work and the need to be in-office."
September is a monumental month for Hanna Interpreting Services. In addition to the Comparably award, the company celebrated its 13th anniversary on September 9, marking over a decade of industry leadership and commitment to bridging linguistic barriers. The month also saw the inauguration of a brand-new office space, showcasing the company's dedication to growth and serving as a hub for innovation and team collaboration.
As Hanna Interpreting Services continues to evolve and set benchmarks in the industry, the core values remain consistent: a commitment to bridging language barriers, a dedication to employee well-being, and a vision to be the most trusted name in language services.
Founded in 2010 by mother and son duo Jennifer Hanna and Tom Elias Hanna in their garage, Hanna has grown to more than 70 employees, served 1.1 million clients to date in 250+ languages, and has sponsored countless outreach events to serve the local community.
For more information about Hanna Interpreting Services or to schedule an interview, please contact Sean Spicer, Revenue Operations Manager, at Sean.Spicer@HannaIS.com
 
Contact Information:
Sean Spicer
RevOps Manager
sean.spicer@hannais.com
(619) 963-2331
Original Source:
Hanna Interpreting Services Awarded Comparably's Best Company for Work-Life Balance
G2 user reviews further validate...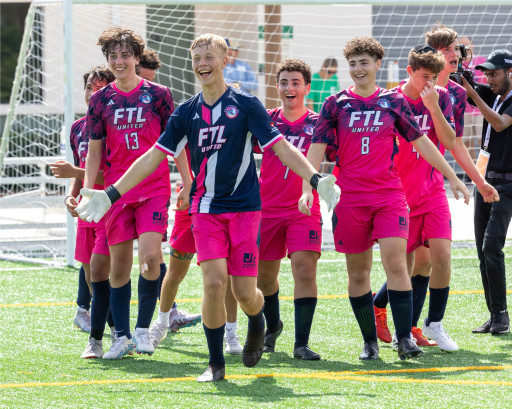 Boys 16U Soccer Finals
The Fort Lauderdale Maccabi Soccer team won their gold medal match against the Philadelphia team.
DAVIE, Fla., September 21, 2023 (Newswire.com) - The 2023 JCC Maccabi Games® & Access, hosted by the David Posnack Jewish Community Center (DPJCC) in Fort Lauderdale, Florida, have concluded with resounding success and heartfelt gratitude to the community that made it all possible. This week-long celebration of sports, camaraderie, and inclusivity has left a lasting impact, thanks to the dedicated efforts of our generous supporters.
Close to 2,000 Jewish teen athletes aged 12-16, representing communities worldwide, gathered in Fort Lauderdale to experience the joy of sports and the power of inclusion. The Games, presented by the JCC Association of North America, offered an unforgettable Olympic-style experience filled with competitions, opening and closing ceremonies, community service, social and cultural events, and opportunities to create Jewish connections that will last a lifetime.
One of the highlights of this year's event was the introduction of JCC Maccabi Access, brought to you by UKG and presented by the Posnack Family Foundation. This program is designed to provide athletes aged 12-18 with intellectual and developmental disabilities an inclusive Maccabi experience. This three-day program, held in conjunction with the 2023 JCC Maccabi Games®, exemplified the event's commitment to inclusivity and diversity.
Scott Ehrlich, CEO of the David Posnack Jewish Community Center, reflected on the Games, stating, "We were overjoyed to welcome Jewish athletes from all corners of the world to Broward County for the 2023 JCC Maccabi® Games & Access. Our heartfelt appreciation goes to our JCC Maccabi Team led by our Co-Chairs, Lori and Mitch Green, Debby and Dennis Eisinger, Davia and Jim Mazur, and Missy and Dan Longman. Their unwavering commitment contributed significantly to establishing an atmosphere that nurtured camaraderie, inclusiveness, and the genuine essence of the Games."
The Games' success was significantly bolstered by the support of honorary co-chairs Scott Scherr, founder of Ultimate Software, and Scot Hunter, co-founder of Emerald Multi-Family Office. Their encouragement to business owners and the backing of corporate and community partners played a pivotal role in the event's success.
Supporting Corporate Sponsors:
Emerald Multi-Family Office
Southern Glazer's Wine & Spirits
Official Torch Sponsor: Duty-Free America
Kent Security
Official Beverage Sponsor: Coca-Cola 
The Meltzer Group
Official Transportation: Sponsor Comcast 
Official Media Partner: Clear Channel Outdoor 
Official Produce Sponsor: ProEx International
Official Pun, Pass, and Kick Sponsor: Miami Dolphins
Official Basketball Sponsor: Miami HEAT
Official Baseball Sponsor: Miami Marlins
Official Cleaning Company Sponsor: AK Building Services
Official Swimming Sponsor: Blavatnik Family Foundation 
Northland Investments
Official V-VIP Dinner Sponsor: Aroma Market & Catering
Custom Outfitters LLC
FP&L
Greenspoon Marder
Manne Foundation for Homeless Prevention
Official Mitzvah Sponsor: Children's Services Council of Broward County
The 2023 JCC Maccabi Games® & Access were not just about competition; they were also about giving back to the community. The JCC Cares Mitzvah Projects showcased the spirit of service, assembling over 1,000 Rosh Hashanah food baskets for Goodman JFS Seniors and Holocaust Survivors, donating over 2,500 pairs of new sneakers to students, in partnership with Children's Services Council of Broward County, and repurposing 340 medals for the "We Finish Together" organization, spreading kindness to ill children and adults in hospitals.
Among the highlights:
Approximately 10,000 spectators attended the Opening Ceremony at FLA Live Arena.
1,620 visiting athletes.
21 Access participants.
375 Coaches & Chaperones.
850 Community Volunteers.
600 Host Families.
215 Local Athletes & Access participants representing Team Fort Lauderdale.
64 delegations, including international representation from Israel, Ukraine, Argentina, South Africa, Mexico, Canada, Great Britain, and 53 cities throughout the USA.
100 Local businesses and individuals generously supporting.
110,000 bottles of Dasani water, Powerade, and soda provided by Coca-Cola.
47,000 pounds of ice used.
20,000 meals served.
300 athletes and coaches wrapped tefillin daily.
As the Games came to a close, the resounding message was one of unity, inclusivity, and the power of community. The 2023 JCC Maccabi Games® & Access will be remembered not only for the athletic achievements but also for the lasting friendships, cultural exchanges, and shared experiences that will continue to enrich the lives of all those who participated.
For more information about the 2023 JCC Maccabi Games® & Access and how you can support future events, please visit dpjcc.org.
Contact Information:
Rixys Alfonso
Corporate Sponsorship Consultant
rixys@causemomarketing.com
305-558-8877
Scott Ehrlich
Chief Executive Officer
sehrlich@dpjcc.org
954-434-0499, ext. 313
Related Images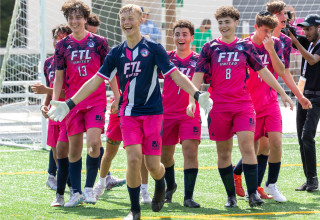 Boys 16U Soccer Finals
The Fort Lauderdale Maccabi Soccer team won their gold medal match against the Philadelphia team.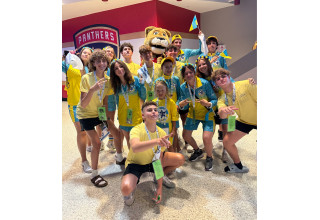 Ukrainian team with Stanley
The Ukranian team, sponsored by the David Posnack JCC, poses with Stanley C. Panther at opening ceremonies of the JCC Maccabi Games & Access.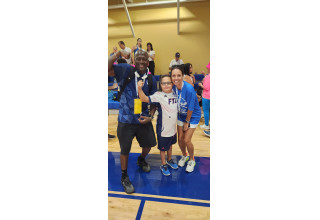 JCC Access Games Athlete & Coaches
Nico poses with his coaches during a skill competition at the Maccabi Access games.
Original Source:
With Nearly 2,000 Athletes, the 2023 JCC Maccabi Games & Access, North America's Largest Jewish Teen Sports and Community Building Event, Leaves a Lasting Impact