GREAT CRYPTO akan membantu meningkatkan peluang kerja dan mendorong pertumbuhan ekonomi dunia untuk mengimbangi periode transformasi digital global.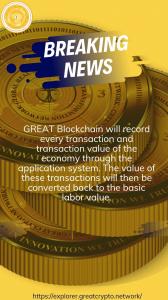 Dua penulis inisiatif "One Mekong, One Meal" terus bersiap mengumumkan Blockchain GREAT untuk mengubah perekonomian global menuju pertumbuhan berkelanjutan.
JAKATA, JAKATA, INDONESIA, November 11, 2023 /EINPresswire.com/ — Setelah lebih dari 5 tahun melakukan penelitian mendalam tentang makroekonomi Sub-wilayah Mekong dan mengembangkan teknologi blockchain untuk inisiatif ekonomi "One Mekong, One Meal" (OMOM), Dr. Tran Cong Doan dan Dr. Vo Xuan Truong, Dua penulis inisiatif makroekonomi "One Mekong, One Meal" terus bersiap untuk mengumumkan proyek GREAT BLOCKCHAIN, sebuah proyek blockchain yang dirancang untuk membantu mentransformasi ekonomi global secara digital dan komprehensif menuju pertumbuhan berkelanjutan.
Perekonomian dunia nampaknya sangat kompleks, namun dalam arti tertentu, ini adalah ekosistem pasar yang beroperasi dengan mekanisme yang sangat sederhana dengan prinsip-prinsip transaksi yang sangat sederhana. Transaksi sederhana ini dilakukan berkali-kali dan didorong oleh kebutuhan manusia dan akan menciptakan tiga faktor utama dalam menjalankan perekonomian. Yaitu Pertumbuhan Produktivitas; Siklus utang jangka pendek; Siklus utang jangka panjang. Instrumen perantara pencatatan nilai transaksi disebut mata uang.
Dengan penelitian mendalam mereka mengenai makroekonomi, teknologi blockchain yang diterapkan pada inisiatif ekonomi OMOM dan keunggulan model ekonomi pasar unik Vietnam, mereka telah mengusulkan dan mulai membangun GREAT BLOCKCHAIN. Dengan algoritma Proof of Asset/Proof of Wealth dan berdasarkan sistem referensi nilai Basic Labour Value dalam "New Basic Labour Value Theory" oleh Dr. Vo Xuan Truong, GREAT Blockchain akan menjadi buku besar terdesentralisasi global yang mencatat setiap transaksi dan transaksi nilai ekonomi dunia menurut pemrograman ekonomi tertutup untuk menyediakan skenario operasi untuk kebijakan fiskal, kebijakan moneter, kebijakan komoditas model makroekonomi ISLM melalui AI dan nilai transaksi akan dikonversi ke Nilai Tenaga Kerja Dasar dan didefinisikan sebagai token GREAT , sertifikat yang mengakui aset digital bagi peserta perekonomian dunia.
Melihat kembali sejarah perkembangan blockchain, sebelum lahirnya Bitcoin, tidak ada yang bisa membayangkan mentransfer uang dari satu rekening ke rekening lain dengan aman tanpa ada lembaga keuangan di antaranya, seperti bank. Teknologi Blockchain menghadirkan cara baru yang radikal dan inovatif untuk melakukan segala bentuk transaksi melalui Internet. Munculnya Bitcoin dan blockchain telah membawa banyak perubahan pada dunia keuangan, bahkan perekonomian dunia yang sebelumnya dioperasikan menggunakan mata uang Fiat. Dengan temuannya, kedua PhD siap menciptakan transformasi digital transaksi dan nilai transaksi ekonomi dunia yang transparan dan publik melalui pengakuan nilai menggunakan aset digital GREAT. Popularitas Smartphone dan Internet membuat pencatatan nilai transaksi GREAT Blockchain semakin melimpah, populer, mudah, transparan dan bernilai. GREAT Blockchain berjanji untuk benar-benar menjadi aset digital yang sangat berharga di masa depan ketika diluncurkan secara resmi pada 10/10/2023.
"Sumber daya paling berharga di dunia bukan lagi minyak atau emas, melainkan data dan aset digital. Kami menciptakan GREAT Blockchain untuk membantu menjadikan transaksi dan nilai transaksi perekonomian lebih transparan dan adil" – Dr. Tran Cong Doan berbagi.
Vo Xuan Truong berkata: "GREAT Blockchain akan membantu mendorong peluang kerja dan mendorong pertumbuhan ekonomi dunia secara berkelanjutan dan kuat melalui pencatatan transaksi dan nilai transaksi yang transparan sekaligus menciptakan lebih banyak lapangan kerja melalui fungsi Kontrak Cerdas dan DApps (Aplikasi Terdesentralisasi). bagi setiap individu untuk menciptakan lapangan kerja baru dan menyerukan kerja sama, mulai dari secara pasif melamar pekerjaan berdasarkan gaji yang ditetapkan oleh pemberi kerja, pekerja secara proaktif membuat proyek untuk dirinya sendiri sesuai dengan kebutuhan perekonomian dunia untuk menarik orang-orang dengan minat atau kebutuhan kerja yang sama. atas dasar kesetaraan dan transparansi kontrak pintar dalam ekonomi berbagi dan sirkular. Hal ini menjanjikan akan menjadi tren baru perekonomian dunia dalam waktu dekat."
GREAT WALLET akan secara resmi diterapkan ke berbagai pengguna mulai 11 November 2023.

Audiens dapat mempelajari lebih lanjut tentang GREAT BLOCKCHAIN dan aset digital "Great Crypto" dengan informasi berikut:
Website: https://greatcrypto.network/

Mainnet: https://explorer.greatcrypto.network/

GreatWallet: https://wallet.greatcrypto.network

GREATEX: https://dex.greatcrypto.network/

GREAT WALLET:
Unduh dompet GREAT:
CH Play: https://play.google.com/store/apps/details?id=com.greatwallet&hl=vi&gl=US&pli=1

App Store: https://apps.apple.com/vn/app/great-wallet/id6471328533?l=vi
Mr Ryan
GREAT CRYPTO NETWORK
+62 82184535124
email us here
Article originally published on www.einpresswire.com as Dunia akan melihat Blockchain GREAT untuk transformasi ekonomi global yang berkelanjutan